Gordon Barber (b. 26 May, 1889, Guelph, ON, Canada) was the son of John Barber (b. 1853) and Sarah Willoughby (b. 1853). He was born and raised on his parents farm, Elm Lane Farm, in the Paisley Block, Guelph Township, just west of Guelph city.
He married Annie Alice Green (b. 1890, Cowesby, Yorkshire, England), and worked for a while on the Bowman Farm, Paisley Road, Guelph, where prize cattle were raised. He rented and farmed the Lawrence Farm, on Highway 24, just west of Guelph. Subsequently he worked for Mr. Lawrence in Toronto, having moved the family there (living on Durie Road). While still at that address, he worked for the Toronto Transit Commission, ca 1924, driving a street car. The family then moved to Park Street, Dundas, Ontario, then to Guelph (res. Home Street). They then moved to Burlington, Ontario, living on Brant Street and then on Plains Road, just west of Freeman's Corner (next to James and Mary Potter his maternal Aunt and Uncle.)
When Gordon's maternal aunt - Mary Potter died - (her husband James having died earlier), he was left her house and another lot, next door, which he sold and bought the old Johnny Woods' farm, on the north side of Middle Road (now the Queen Elizabeth Way), just west of Fisher's Corners, Burlington. He farmed here until 1951 when, retiring from farm work and having sold it, he and Annie moved to Belvena Drive, on the Lakeshore, in Burlington east.
Gordon and Annie Barber (centre) with family: Bert, Dora, Frances, Freeman (absent or taking picture is the eldest - Marjorie)
From there Gordon and Annie moved to Lexmar Apartments on Brant Street Burlington, near Graham's Lane, where he lived with his death in 1967. Annie lived there until 1976.
---
Annie Alice (Green) Barber 1890 - 1976
Gordon Barber 1889 - 1967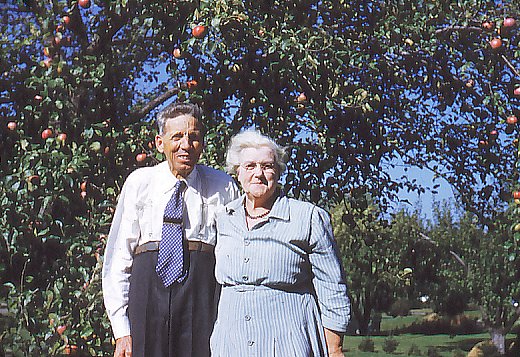 Gordon and Annie Barber
---
Gordon Barber
b. 26 May, 1889, Guelph, ON, Canada
(son of John Barber and Sarah Willoughby)
d. 22 November, 1967, Burlington, ON, Canada
buried: East Plains United Church, Burlington, ON, Canada (Potter Plot)
Spouse: Annie Alice Green
b. 24 November, 1890, Cowesby, North Yorkshire, England
baptized 1890, Cowesby, North Yorkshire, England
d. 1976, Burlington, ON, Canada
buried: East Plains United Church, Burlington, ON, Canada (Potter Plot)
Children:
b. Guelph Township, ON, Canada
Dorothy Barber
d. Guelph Township, ON
b. Guelph, ON, Canada
Dora Eileen Barber
b. 30 August, Guelph Township, ON, Canada
d. Burlington, ON, Canada
Annie Frances Barber (twin)
b. Guelph Township, ON, Canada
m. James Malone Cameron (b. 1933 - d. Apr 28 2001 Grey Bruce Health Services, Owen Sound, ON
Issue: Dorothy Anne m. Eric Crouse; Peter m. Carol Mashinter; Jamie m. Yolanda;

James - buried: Walkerton Cem. Walkerton Ontario
Arthur Freeman Barber (twin)
b. Guelph Township, ON, Canada
b. Dundas, ON, Canada
d. 1995, Burlington, ON
Albert Gordon Barber
---