Evelyn Blanche Barnard
Evelyn Barnard was the wife of Alexander Edwin Brock, and the mother of Jane and Lois.
She was born in London, Ontario - the daughter of James William Barnard and Alice Maud (Bradshaw) Barnard.
---
Evelyn with her parents, James and Alice Barnard
Evelyn moved with her family to live in Toronto, Ontario.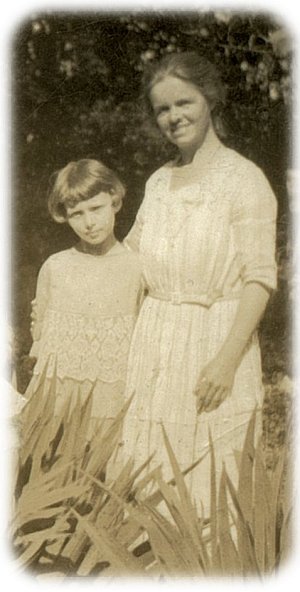 Evelyn and her mother, Maud (Bradshaw) Barnard
By profession Evelyn was a milliner - and even today remains very interested in the clothing and fashion industry.
She fashioned and created intricate hats for 'high end' clientele, at the time of her marriage, and for several years into her marriage - until the demands of home and family led her to give up her professional involvements.
In her work capacity, she attended the 1939 World Fair.
She was married to Alexander Edwin Brock, until his death in May of 2001.
an outing at Toronto's Centre Island