James was called by his second name. His father was David Almas (b. 1840) and his mother was Jane Newman (b. August, 1843, England), daughter of James Newman (1813-1884) and Ann Hayes (ca 1818 - 1905). He married (ca 1894) Mary Jane Lambshead (born 21 March, 1869, Kingsteignton, Devon, UK - died 22 September, 1950, Burlington, ON).
In the 1881 Halton County, Ontario Census, James is 15 years old - a "labourer working for Samuel Betzner." In Morrey's Business Directory of 1899: "James Almas, Burlington, Nelson Twp., Tenant - Concession (block), Lot, page 19."
In the 1901 Halton County, Ontario Census, James is described as: 'labourer, male, age 34, born Ontario, Methodist, living in Nelson Township, division 1, page 2."
Mary (Lambshead) Almas
The children of Newman James Almas and Mary Jane Lambshead were:
1. Josiah Gordon Almas - born 9 February, 1896, Burlington, ON - died 3 December, 1980, Burlington, Ontario.
2. Ellen (Nell) Gertrude Almas - born 20 March, 1896, Burlington, ON - died 5 May, 1968, Burlington, ON
3. Hazel Jane Almas - born 17 March, 1897, Burlington, ON - died 19 November, 1984, Burlington, ON
4. James Frederick Almas - born 19 March, 1900, Burlington, ON - died 5 December, 1983, Burlington, ON
5. Ernest Hayes Almas - born 1900, Burlington, ON - died 1939, Burlington, ON
6. Nelson Clayton Almas - born 22 September, 1903 - Burlington, ON - died January 1998, Milton, ON
7. Mary Almas - born 11 December 1905, Burlington, ON - 5 July, 1907, Burlington, ON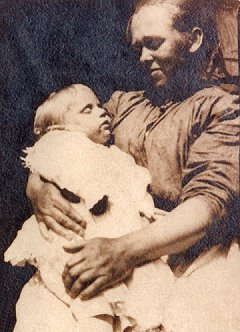 8. Newman Ross Almas - 12 January, 1907, Burlington, ON - 5 June, 1971, Burlington, ON
9. Winnifred Almas - died 20 August, 1992, Burlington, ON
(back) Hazel, Ernest, Gordeon, Ellen, Frederick - (front) Ross, Clayton, James, Mary, Winnifred
---
Ontario, Canada Deaths, 1869-1932 Record
Birth, Marriage, & Death Records Name: James Almas
Birth: On
Death: 1930 in Halton, Ontario, Canada
1901 Census of Canada Record
Census Records Name: James Almas
Spouse: Mary J
Children: James F
Birth: in Ontario
Residence: Nelson, Halton, Ontario